Our bait shop offers everything needed for a successful trip out on the lake, stream, or ice.  We offer live bait, quality fishing rods and a large selection of tackle featuring brands such as Rapala, Storm, Clam, Berkley, Mepps, just to name a few. In the off chance we don't carry what you're looking for, we'd be happy to order it for you. Our friendly and experienced staff are always eager to help answer your questions and update you on local fishing patterns and hot baits.
Make sure to check out our featured local art, jewelry, gifts, and more. We have River Rock branded apparel including sweatshirts, tee shirts, and hats.  We carry locally made food such as wild rice, maple syrup, honey, and others.
We are an authorized dealer of Costa Del Mar sunglasses and offer the largest selection in the Chequamegon Bay Area.
One of the most popular products we carry is our fresh, frozen, and smoked fish. We carry whitefish, lake trout, salmon, and other delicious species when in season. Our frozen selection includes a variety of other types of seafood depending on season such as scallops, shrimp, and other species of fish.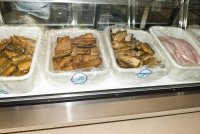 Fresh Fish - In Season
Whitefish
Herring
Trout
Walleye
Frozen Vacuumed Packed Fish
Walleye Fillets
Lake Perch Fillets
Trout Fillets
Whitefish Livers
Herring Caviar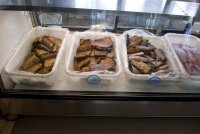 Smoked Fish
Salmon Chunks
Salmon Fillets
Herring (whole)
Trout
Whitefish
Trout (whole)
West Coast - Fish
Salmon
Halibut
Cod
Smoked Salmon Lox
Sugar Cured Smoked Fish
Trout
Whitefish
Salmon
SEAFOOD* SPECIAL ORDER ONLY
8/12 count (peeled & deveined)
13/15 count (peeled & deveined)
16/20 count (peeled & deveined)
16/20 count (EZ peel)
Scallops (Jumbo)
14/16 oz Lobster Tail
7 oz Lobster Tail
Snow Crab Cluster